Triumph Square or Blanket by Wormie


I set out to design a new square pattern today, but I think that I like this better as a full sized afghan or baby blanket. In any case, the pattern is a rather simple formula that should adapt easily to any size project and to most yarns.
(images are clickable)




Use a hook 2 size larger than the yarn calls for. I used a baby weight yarn and an I (5.5mm) hook.

Special stitches: "V-stitch" = DC, chain 1, Dc (all in same stitch)


Start by making a chain to the desired width of your project. The chain should be a multiple of 4 +1 stitches. (my 8" square started with a 29 stitch chain)

Row 1) sc in first chain from hook, *sc in next stitch, chain 2, sc in next 2 stitches*, repeat the pattern between the ** until the end.

Row 2) Chain 3 (counts as first dc) and turn. *Sc in the loop formed by the chain 2 space in row 1, skip one sc, V-stitch in next sc, skip one stitch, sc in next stitch, skip one sc* . Repeat pattern between ** until the end of row. Chain 1, turn

Row 3) SC across (make sure to sc in each stitch and in the space of the V-stitch to maintain width)

Repeat Rows 1-3 until desired length.

Finish by sc around entire edge putting 3 sc in each corner.


For blanket edging – start in corner stitch with: dc-ch-dc-ch-dc, then skip next stitch * v-stitch in next stitch, skip next stitch, dc in next stitch, skip stitch*
Repeat ** around doing the 3 v-stitch combo in each corner.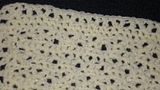 This pattern is incredibly simple, but once again I had trouble writing it up clearly. If you have trouble following the pattern instructions, the chart below may be easier for you to read (if you click to enlarge and print - I couldn't figure out how to insert it in a reasonable size here).







This pattern has not been tested - if you find any problems with it, please let me know.