After my horrible start on my gradated blue blanket, I thought I had no options but to frog it. That was really a bit upsetting. The nice ladies at Crochetville, were (as usual) very supportive, and urged me to find a way to make it work. Well, I couldn't......
But - I did find a way to use what I had done, and while it's not what I set out to make, I ended up with something that works.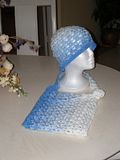 I didn't set out to make a bag - I wanted a baby blanket, but the only way I could think of to utilize the odd shaped piece that I had was to make a bag with a slanted flap.
It actually worked out fairly well. I sewed up the sides, made a strap and added a button. Since it sort of has a faded denim look, I found a buffalo nickel button that seemed to work, and in a few hours I was able to turn a big flop into something I can use. Hubby suggested a matching cap, and now I have a set that I'm going to send to
Roswell Park Cancer Institute
.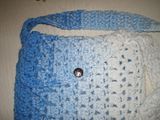 It was nice to find a way to save a project gone bad, and in the process I got to try something new. This is the first time I've ever lined a bag - it's not perfect, but it's ok. I even put a pocket in the lining.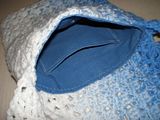 Many thanks to the ladies at Crochetville and to my wonderful hubby who inspired me to save this project!