Today was a really hard day. I think hubby and I were in a daze. Birdie's death was so sudden and so unexpected. Our pets fill a special place in our hearts, and it hurts so much when they're gone.
When we were talking last night, I was crying, and I said that as awful as it is when we lose them, our pets add so much to our lives and it's so worth the pain. Still the pain doesn't go away.
I've learned from experience that when I'm really hurting I need to do something positive. I can empower myself by finding something that I can do that will somehow make a difference. So this afternoon I talked to hubby and told him that we need to think about bringing another cat into our home and into our family. Nothing I can do will bring Birdie back. No other animal can replace her in our family and in our hearts.
We are lucky in that we have the ways and means to help another animal in need. We have enough love to share with another pet. The shelter is full of wonderful dogs and cats that were abandoned or strays, and if we can't bring Birdie back, we CAN make the life of another animal better.
I thought that perhaps this weekend we would go to the shelter and look into adopting another cat. Well, as someone wise once said, there is no time like the present.
So..... Welcome Gordo.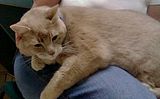 Gordo is 20 pounds of big beautiful teddy bear kitty. He's 7 years old and for some reason was given up by his family. He's layed back, mellow and very snuggly. He's a bit freaked out and is hiding, but Bogey and Scooter seem to be accepting him pretty well, and once he feels comfortable enough to come out, I think he'll fit right in just fine.
I would do anything if I could bring my Birdie back and make her healthy and happy, but I can't. I'm glad that I can offer a good home to Gordo.