To all of you who celebrate the holiday, wishing you a wonderful day with your loved ones!
I don't celebrate Christmas, but much of my extended family does, and it was fun buying and making gifts for everyone. Now that Christmas is here, I can post photos of some of the gifts that I gave.
I was very happy to make personalized blankets for the two babies. I made one first for Olivia, and was so pleased with how well it turned out that I rushed to make one for Baby Ava too. Olivia's is made with Caron Super Soft yarn and it really is soft and cozy. The yarn stretches a bit, so it's a bit larger than expected, and it posed a few challenges in the making, but I just love the way it turned out. I'm sure little Livie won't see the mistakes, and I hope she'll find it warm and cozy.
Little Ava's version is made with Softee Baby. It didn't stretch so it kept its shape better and was easier to work with. It's not as soft as Olivia's but it's warmer.
Merry Christmas Babies! I hope your first Christmas is perfect!
I also wanted something special for Olivia's mommy and grandma (my niece and SIL) so I commissioned my very dear friend
Lynn
to make some bracelets for me. She's an incredibly talented, self-taught beader and jewelry maker, and she outdid herself!!!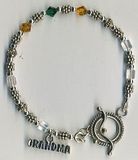 The bracelet for my niece features a personalized bead with her baby's name and birthdate on it. It's lovely. The bracelet for my SIL had a "Grandma" charm and features crystals in birthstone colors for her grandbaby, daughter and herself - representing three generations of women.
Lynn did a great job and I know that my niece and SIL will just love these gifts and much as I loved giving them!
Merry Christmas everyone!!